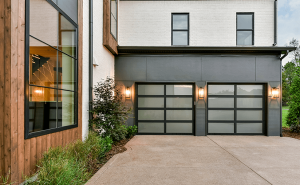 Garage doors have come a long way in terms of style, material, and availability. And with the varying options come varying degrees of strength and longevity – with some garage door options being more suited to certain climates and conditions than others. And with so many choices available, it can be hard to choose which garage door material is best for you and your home. That's why we're here to help! These are our top 5 long lasting garage door materials to consider for your Toronto home.
Steel Garage Door
Steel is the most commonly used garage door material for a reason! Nothing says durability quite like steel. Add in their ease of maintenance and variety of styles/textures and you've got a valuable investment that's hard to beat. Not only is it reasonably priced, but due to its poor ability to conduct heat it can also aid in energy savings. Just make sure you choose a mid to top level quality steel that can withstand impacts.
Wooden Garage Doors
When it comes to sophistication, you can't go wrong with a wooden garage door. This garage door material offers top tier security, an enhanced and unique aesthetic to your home, and it's a renewable resource! Because wood is also a natural insulator, it can even improve the energy efficiency of your home. As long as these types of garage doors are regularly maintained, they will be able to stand the test of time – in durability and in look.
Aluminum Garage Doors
Aluminum is an excellent garage door material that boasts long-lasting finishes. It can even be customized with a faux wood texture or incorporated with glass. This lightweight material is perfect for coastal or humid areas thanks to its rust resistant qualities.
Wood Composite Garage Doors
Wood composite garage doors are made from recycled wood fibers and have the looks and texture of polished wood. This material is eco-friendly and requires little maintenance with more resistance to destructive elements. The main components of a wood composite garage door are plastic, wood fiber, and a binding agent such as glue. The benefits of wood composite garage doors include:
Behind each long lasting garage door is the material used to manufacture it. When deciding on a material, it is best to consider where you live so that you don't have to go through maintenance every time harsh climatic conditions arise. Interested in your garage door material options? Contact us today! We can be reached at info@adamsdoorsystems.com or 905-602-6550 (Mississauga) or 416-502-2212 (Toronto).