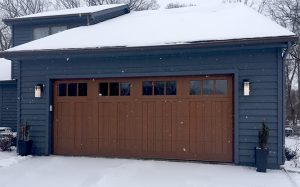 New year, new garage? While you should always consider the weather when making exterior upgrades to your home – such as replacing the windows – certain renovations can still be done during the colder months. In fact, as long as there are no blizzards or gale-force winds to reckon with, replacing your garage door during the winter is perfectly fine! And even recommended if your current garage door is giving you trouble. Find out why!
A New Garage Door Keeps The Interior Dry And Warm
Wintertime in Canada is no walk in the park. And while leaving your garage exposed to the elements for a short period seems counterintuitive, it's far preferable to leaving a broken door in place for the season. When your garage door doesn't seal tightly, there's little protection from the damp and cold. This not only affects the garage, but the goods inside it as well. All that extra moisture can lead to mold, critters can enter the gaps, and the garage itself won't be a comfortable place to be. You can prevent these and similar problems by making garage door installation a priority this winter.
Lower Your Utility Bills
If your garage door isn't insulated, it's probably bitter cold in the garage all winter long. This adversely affects your utility bills and comfort level as cold air leaks in through the wall that is separating the living space from the attached garage. Installing an insulated garage door in the winter helps keep the space more comfortable. While this is most significant if you use the garage as a hobby room, workshop, or home gym, it still helps to lower the cost of heating the rest of your house. Don't put off these savings by waiting until spring to install your new garage door!
Schedule Your Winter Garage Door Installation In Toronto Today!
The new year is here and so is your new garage door! If you're ready to install that beautiful, efficient garage door to protect your home and belongings from the Canadian winter, look to Adam's Door Systems. We offer quality installation services of steel, aluminum, and wood garage doors in several styles that are sure to meet your needs. When you're ready to schedule your garage door installation, contact us at info@adamsdoorsystems.com or 905-602-6550 (Mississauga) or 416-502-2212 (Toronto).