SIZES
Widths from 8' to 18', in 1" increments.
Heights from 6'6" to 8', in 3" increments.
Please contact us for more details on oversized doors available.
STEEL (LIGHT WOODGRAIN FINISH)
Premium colors: small additional fees apply.
The accuracy of colors on the website may vary depending on your screen settings. To see the true colors, please contact your local Garaga dealer for a sample.
GARAGA CONSTRUCTION MAKES ALL THE DIFFERENCE

RUGGED & DURABLE

THERMALLY EFFICIENT

REFINED DESIGN

Located between sections, this joint blocks air infiltration due to its triple-contact weatherseal.

Makes sections very strong as it is mechanically interlocked and not bonded.

The most effective thermal breaks, they eliminate any transfer of cold or heat between materials.
3. REINFORCED METAL PLATES

With 14-gauge thickness, they are used to solidly attach hinges, handles and operator bracket.
4. HIGH-PERFORMANCE WEATHERSTRIPPING

Our weatherstripping ensures increased weathertightness and stays flexible through the coldest temperatures.

High-pressure injected foam provides R-16 thermal resistance for 1 ¾" doors.

Because it adheres to the section walls, it provides a high level of rigidity to the door.

Up close or at a distance, our embossed woodgrain finish is flawless and very refined.

Both our interior and exterior window frames are molded without joints or any visible screws. They are made of synthetic resin that is sun resistant to keep their good looks over the years.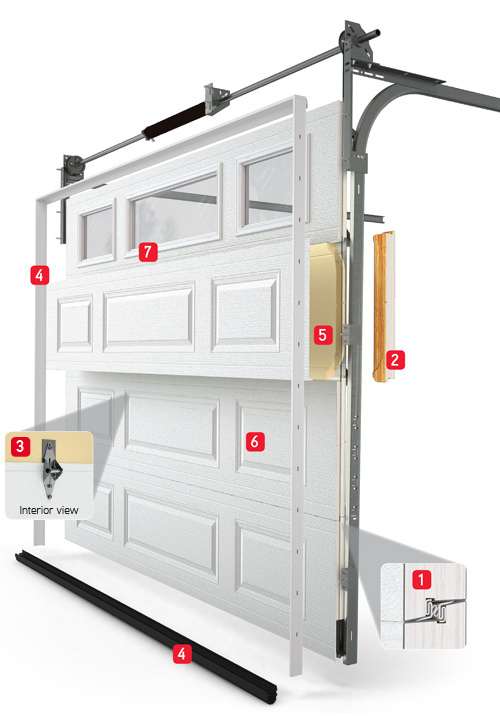 To save energy, all components of a garage door must be taken into consideration (joints between sections, weatherstripping, end blocks, etc.) and not just its thermal resistance R-value as that only refers to the construction of the sections.